EXCITED ABOUT GOING TO COLLEGE?
Just getting started? How to prepare? Where to apply?
Calling all Sophomores, Juniors, Seniors and Transfers…
this is for YOU!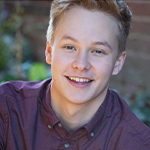 I would like to thank you so much for all the time and effort you have devoted to helping me over the course of last year. You were always looking out for my best interest and understood the path I needed to take towards my passion. When I met you a huge light entered my life. Your kindness, honestly, and belief in me has shaped me into a better performer and human being.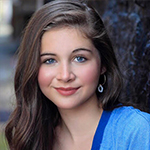 Lucy Grey Mclver
High School Senior
I've been working with Alexis and Chryssie on my college prescreens and working with them has been a tremendous help and fun! They are still so excited about the work and passing it on. They really show up for you, are excited for you, and meet you where you are.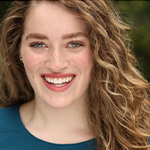 Camryn Winnicky Lewis
St. Clair College
I worked on my college auditions with Chryssie and Alexis during their Mentorship program. They brought so much more in my life than I could've expected. I needed their help and I can safely say I would not be at the school I'm at without them.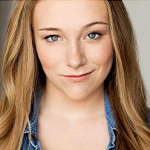 Alyssa Carol
University of Michigan
"Coaching with Alexis and Chryssie has been the greatest gift for me. They are so brilliant at helping you bring your most authentic self to whatever you're working on. It's really cool to see the transformation with the students they coach. They're also the fiercest women I know!"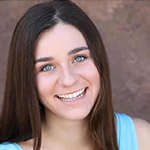 I worked with Alexis for my college audition process and she really listened to me and created a dance that not only catered to me but that lit me up when I performed it! I worked with Chryssie during Summer Roots and she really helped me make choices that were unique to me in my monologues. I promise you will be set for your college auditions if you choose to work with Alexis and Chryssie, and it will be the best process!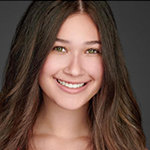 Sadie Mae Margolis
Elon University
Having two strong female mentors motivated me; we dove deep into monologue work and acting a song. With new strategies and approaches, I found myself safe to take risks which allowed me to grow and ask questions to further develop my craft.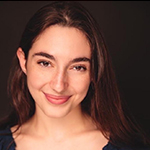 Ma'ayan Shaveet
The Institute for American Musical Theatre
Working on my audition material with Chryssie and Alexis was an amazing experience! They both took the time with me to focus on my individual needs and ensure that my goals and intentions were very clear throughout the whole process. As a result of all of our work together, I felt fully prepared and excited to present what I had to offer when it came time to audition for my dream school.
We have 2 packages with 2 price points designed exactly for you...
AUDITION CHOREOGRAPHY ONLY
Ala carte for college audition dance choreography tailored to you. This include two 1 hour sessions with Alexis or Chryssie learning the dance plus two rounds of feedback after submitting your video.
$500
COLLEGE PREP PLUS
(with both Alexis and Chryssie)


$1199

(online)
$1599

(hybrid)
$1950
(IN-PERSON -

Includes space rental

)
4 Private coachings
PLUS 30 min taping or pre-tape prep session of your material
Lifetime Access to our MT course, Mindset Tips for College and our Acting for Camera tips
Specific Choreography for your dance submissions (for MT submissions)
Help choosing your material with access to a database of options
Guidance on college selection
Accountability on your work and submissions
Access to our contact list of BAC Artists at colleges and universities
COLLEGE PREP BASIC
(with Alexis or Chryssie)


$499
(online)

$699

(hybrid)
$850
(IN-PERSON -

Includes space rental

)
2 1 Hour Private Coachings
PLUS 30 min Pre taping Prep session
3 video feedback sessions from your rehearsals
One month access to our MT course and Mindset Tips for College and Acting for Camera tips
Our Musical Theatre Course includes not only our joyful, proven method of how to prepare for your songs, but also 20 dance videos and warm ups, technique videos and choreography you have access to.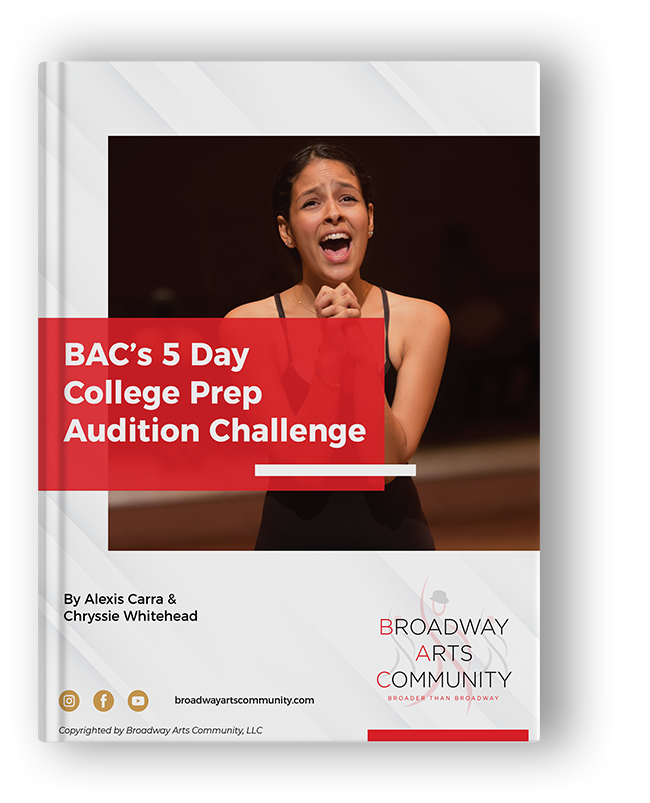 BAC'S 5 DAY COLLEGE PREP AUDITION CHALLENGE
FREE 5 DAY COLLEGE PREP CHALLENGE for the high school sophomore, junior or senior ready to audition for college and do it in the most joyful, prepared, and relaxed process! These 5 days will give you a sneak peak into how we work. So, bring joy and clarity to your college audition experience and learn more about your process as an artist!

What is this challenge? 5 day, 5 tips to get ready you for college auditions. From finding the right material and how to prepare it, to learning about auditioning, to getting feedback from your college pre screen self tapes BAC can help you! And we focus on the importance of a having a healthy mindset throughout Applying to college is a journey, let's make it fun!


Those who complete the challenge get a 10% discount to our specifically designed COLLEGE PREP package, PLUS 1 video Feedback Session from your prescreen self tape submissions.


Contact us if you have any questions
For more information and a specific breakdown on how the program works please contact us here.